Ou Toppies Teasers – Season 1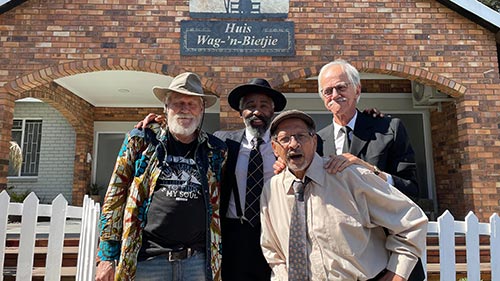 starring four veteran South African actors: Ian Roberts, Amos Ketlele, Simon Bruinders and Tobie Cronje.
It's set at Huis Wag-'n-Bietjie (Home wait-a-minute) retirement home and follows the foursome's antics as they become unlikely firends.
You'll find more on the scenario and details on the characters on the TVSA Show Page here: Ou Toppies
And here's a teaser pack for the season:
Episode 1
Tuesday 8 February 2022
The small urn with Sus' ashes is misplaced on the day of her memorial service. The Ou Toppies all want Sus' old room and decide whoever finds (or fabricates) Sus' ashes can move into her room.
Sus' dead-broke son, Boetus arrives for her memorial. When he "injures" himself he uses it as an excuse to move into his mom's old room… with no intention of ever leaving again, since he has nowhere to go.
Episode 2
Tuesday 15 February 2022
At a general check-up, George passes out when he sees someone else's blood. Gloria thinks he has blood sugar issues and the whole house gets put on a low sugar, high fibre diet.
The Ou Toppies are tired of Vikesh's healthy vegan food. They try to steal the key to the storeroom where all the goodies are being stored.
The conglomerate hires a personal trainer to do fitness at the home once a week. The Ou Toppies refuse flat out, until they see the sexy Missy Stander. Suddenly they are fans of fitness.
Episode 3
Tuesday 22 February 2022
The Ou Toppies are tired of the same old recreation routine. When Gloria heads out with a young, hot man, they decide to organize a speed dating session. But finding young girls at short notice comes at a price.
Episode 4
Tuesday 1 March 2022
A verbal tussle between George and Jabu escalates to the point where they decide to sort it out old-school style – using their fists, in a boxing match. Jabu calls in a famous trainer and George settles on Alvin.
Episode 5
Tuesday 8 March 2022
When George thinks Sus' old watch is a valuable antique, Boetus hopes it's his ticket out of the home. He misplaces the watch, and the Ou Toppies try to use that to their advantage. He refuses to leave Wag-'n-Bietjie until he has found the lost pocket watch.
Episode 6
Tuesday 15 March 2022
After a funeral, Dr. Gloria raves about the deceased's lovely hair, and inadvertently makes the Ou Toppies long for more hair. They make all kinds of plans to impress her.
Boetus reveals some of his past, and the Ou Toppies realize that he is hiding something serious, when he freaks because they want to take a photo of him to post online.
The conglomerate is putting pressure on Dr. Gloria to motivate why 'Wag-'n-Bietjie' is a viable investment.
Episode 7
Tuesday 22 March 2022
When the Ou Toppies injure themselves changing a light bulb, Gloria wants to cut their fitness sessions to avoid further injury.
The Ou Toppies convince her that they need more exercise, not less. Jabu makes some money on the side, selling muscle builders and energy drinks.
Ou Toppies jokingly threaten to complain to the Conglomerate that they are being mistreated.
Episode 8
Tuesday 29 March 2022
It's karaoke time at Wag-n-Bietjie, but instead of a fun night, it turns into a war-sync-battle-zone with casualties! Nhlanhla feels left out and wants to join the karaoke hype.
When Vikesh tells her she can't sing to save her life, she manipulates Boetus into doing a duet. Boetus is so cagey about having photos taken. George undertakes to subtly investigate.
Episode 9
Tuesday 5 April 2022
Everyone's exhausted because a strange noise has been keeping them up at night. When they investigate, they think the house is haunted, when it's actually George snoring.
Gloria sleepwalks due to lack of sleep and stress around the conglomerate wanting to demolish the house. She is mistaken for a ghost.
Alvin posts a video of George snoring on the Internet and Boetus confesses he can't afford to advertise he's at 'Wag 'n Bietjie', making the Ou Toppies even more intrigued.
Episode 10
Tuesday 12 April 2022
A rugby game on TV sparks debate between Jabu and Alvin, whether soccer or rugby is better. The Ou Toppies compete for the TV remote.
The conglomerate invites a rugby team to huis 'Wag 'n Bietjie' for Madiba day, but only one unknown player arrives to paint a wall.
Episode 11
Tuesday 19 April 2022
George almost gets scammed when he sets up cellphone banking to claim an unexpected retirement payout.
The Ou Toppies use social media to ask for donations for a fun day, and it goes viral.
Ou Toppies are fascinated by the fact that the IT guy looks so much like Jabu. They wonder if they could be related. Jabu doesn't see the similarities though.
Episode 12
Tuesday 26 April 2022
When Fanus arrives to look at a room, Boetus recognizes him from his past and goes into "hiding". Alvin tries to get DNA samples to check if the IT guy is not Jabu's son.
Fanus, the potential new tenant, charms Gloria and earns the Ou Toppies' disrespect.
Episode 13
Tuesday 3 May 2022
The Ou Toppies decide to spoil Gloria for her birthday by throwing a party. They have different ideas as to what this party should be.
When Gloria invites Fanus to the party, Boetus turns it into a fancy dress to hide his identity. Jabu finds out whether or not Siyabonga is his son and isn't upset about the result.
Premiere episodes of Ou Toppies air on SABC3 on Tuesdays at 19h30.