New! Illusion Teasers – December 2021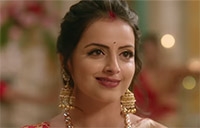 Tuesday 21 December 2021
Episode 1
Janhvi and her family are all set to welcome her brother-in-law Kabir. What will happen when things don't go as planned?
Episode 2
Kabir's marital status shocks the Mittals while Janhvi supports his decision. Later, Kabir is baffled to see Suman's pitiful condition.
Wednesday 22 December 2021
Episode 3
Ishani takes a shocking step after a heated argument with Kavya. Later, Kabir feels offended when Prem berates Kavya.
Episode 4
Kavya panics as Arush goes missing. Later, Kabir reveals a shocking truth to Jhanvi after they join the search.
Thursday 23 December 2021
Episode 5
Janhvi overhears Ishani's shocking demands and takes a drastic step. Later, she feels low as she recalls her childhood memories.
Episode 6
Prem takes Ishani home while Janhvi is delighted as things go according to her plan. Later, he hosts a party on the occasion of his marriage anniversary.
Friday 24 December 2021
Episode 7
A curious Prem Mittal asks Janhvi to identify the sketch. Later, he learns a shocking truth while she does the unthinkable.
Episode 8
Prem rebukes and hits Kabir for marrying Kavya, while Janhvi enjoys the chaos and executes her next plan.
Saturday 25 December 2021
Episode 9
Kavya tends to Kabir's wounds, while Prem offers her a deal. Later, Janhvi uses Suman as a scapegoat to execute her plan.
Episode 10
Kabir takes a stand for Kavya against Prem. Later, there is protest when Prem slaps a journalist at the conference.
Sunday 26 December 2021
Episode 11
Janhvi is shocked to see an unlikely visitor on the doorstep. Later, Ishani falls into the swimming pool, following an argument with Kavya.
Episode 12
Kabir is delighted as Ishani reconciles with Kavya. At midnight, Janhvi sneaks out of the house while Dhruv follows her.
Monday 27 December 2021
Episode 13
Janhvi cunningly traps Kavya in her devious plan. Meanwhile, Kabir recalls his memories with Vyom.
Episode 14
Manohar finds out Janhvi's real identity while Dhruv convinces Kabir to support Prem.
Tuesday 28 December 2021
Episode 15
Ishani tricks Kavya into overdosing Suman's medicines. Later, Suman creates a scene at the press conference while Janhvi makes a shocking announcement.
Episode 16
Dhruv and Kabir get into an argument while Suman is held captive. Later, Kavya gets suspicious of Janhvi while a huge shock awaits the latter.
Wednesday 29 December 2021
Episode 17
Kabir pampers Suman and sings her a lullaby. Later, Kavya does the unthinkable to help Suman, leaving Ishani and Janhvi furious.
Episode 18
Janhvi is tensed after receiving an unexpected text on her phone. Later, Kabir rebukes PK Mittal during the Bhoomi puja.
Thursday 30 December 2021
Episode 19
While Manohar blackmails Janhvi, Shail lands in trouble. Will he be saved before it's too late?
Episode 20
Janhvi saves Shail with Amma's aid who was buried alive. Elsewhere, Kavya gets suspicious of Janhvi's intentions and makes an unexpected move.
Friday 31 December 2021
Episode 21
Janhvi meets the blackmailer and puts up a tough fight. Will she be able to unmask him?
Episode 22
Suman is delighted when Kabir puts forth an unexpected request. Later, Ishani makes some odd comments to annoy Kavya.
Premiere episodes of Illusion air on Star Life from Mondays to Sundays at 19h00 and 19h30.